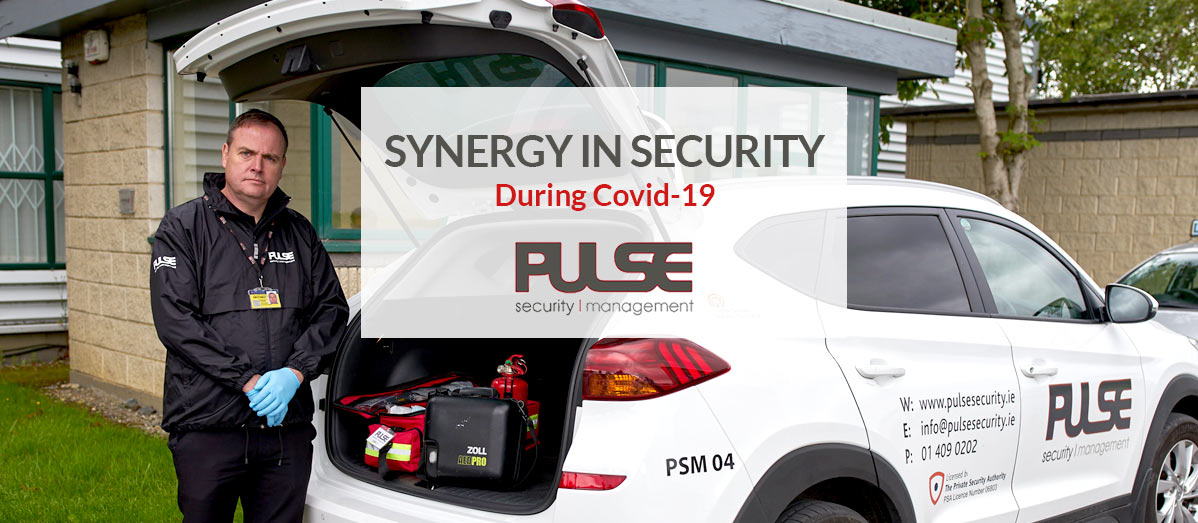 Synergy in Security
During COVID-19
While most businesses have been ordered to close during the Covid-19 pandemic, essential services like private security continue to operate. To do so safely and effectively, security companies need to have a synergy in their security strategy that protects their employees and the public as they continue to provide service to their clients.
That requires a synergy in security services delivery with three main areas of concern:
Access Control
Controlled Visitor Interactions
Flexibility in Security Service
Access Control
First up in creating a synergy in security during any crisis, is to maintain strict access controls. In the midst of a pandemic and large-scale economic shutdown, access control can be even more vital for protecting health and indeed life. Security companies should review their procedures at every job site to ensure that access is limited in accordance with current public health policy guidelines. That may require restricting the number of access points to ensure that movement can be more efficiently monitored and controlled.
Controlled Visitor Interactions
The second part in creating an effective synergy in security is to adjust visitor interactions. Covid-19 has made everyone more conscious of close proximity interactions, due to the fact the virus is easily transmitted from one person to another. Therefore visitor management processes should be adjusted to reflect that reality. If security personnel are required to interact with visitors, employees, or building tenants, proper protective gear is essential. That includes masks, gloves, and any other PPE equipment that can minimise exposure to infection.
At the same time, it is just as important to initiate visitor screening protocols. All visitors should have access to sterilisation products to help prevent virus transmission. Security companies should also consider asking questions about a visitor's potential exposure to Covid-19, whether they've experienced flu-like symptoms, and if they have been tested for or vaccinated against the virus. In short, they should take the necessary steps to reduce any risk of the virus being introduced into any secure area.
Flexibility In Service
To complete the synergy in security it is critical for security companies to be flexible within their crisis management plans. Numerous people have being quarantined because they were exposed to Covid-19 and security personnel face that risk every day. As a result, companies have to be prepared for the possibility that they may need to provide security services with limited resources. Planned flexibility with enable a firm to continue to service their clients' security needs even when short-staffed.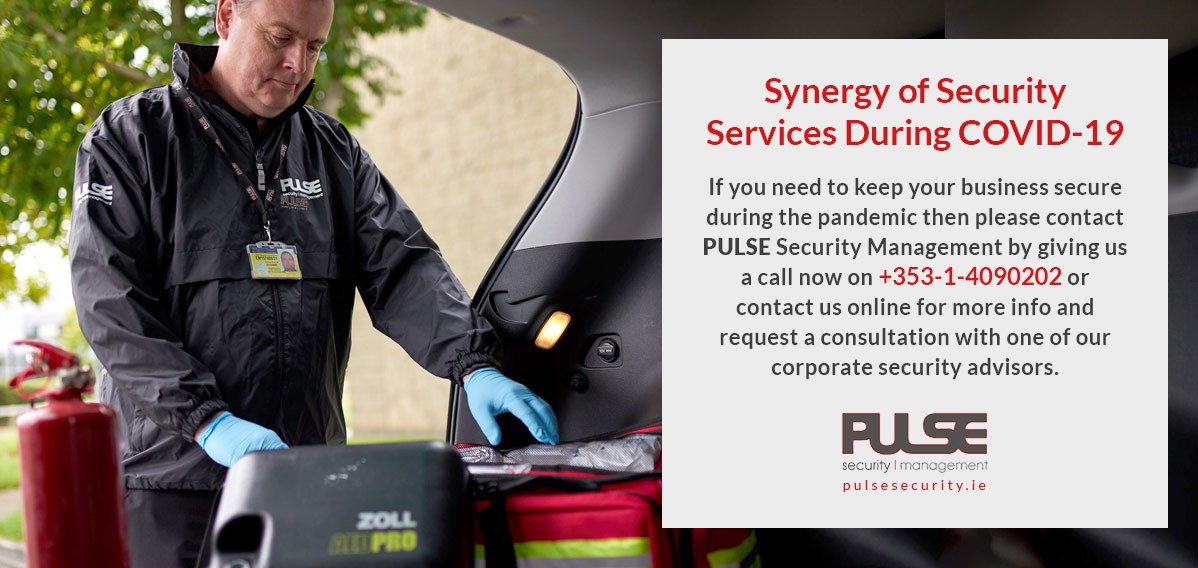 The Synergy of Security Services During COVID-19
Pandemics such as Covid- 19 and other emergencies arrive without warning, presenting challenges for any security strategy. The good news is that security companies can rise to that challenge when they can rely on a sound emergency response plan that protects their personnel, their clients, and the public.
If you need to keep your business secure during the pandemic then please contact Pulse Security Management by giving us a call now on +353-1-4090202 or contact us online for more info and request a consultation with one of our corporate security advisors.