MOBILE PATROLS
TO PROTECT YOU, YOUR PEOPLE
AND YOUR PREMISES
Ireland's premier mobile patrols service.
Are you concerned about criminal activity on your property after hours?
Do you need your premises locked and unlocked at specific times each day?
Do you want peace of mind in knowing that there is a professional security guard on your premises who can act quickly in the event of an emergency?
If you answered yes to any of these questions, contact PULSE Security Management to learn more about our mobile patrol units. Don't think that crime or emergencies won't happen on your property. Protect your business with our highly trained and fast acting mobile patrol units today.
How Mobile Patrols Can Protect Your Business
When you work with our professional and fast-acting mobile patrol officers, you can feel confident that your property is safe and secure. Often, just the presence of a security patrol is enough to deter crime, prevent vandalism and increase feelings of safety on site. The mobile patrol units deployed by Pulse Security Management, combined with other security measures such as alarm and monitoring systems, are highly effective in creating a consistently secure environment.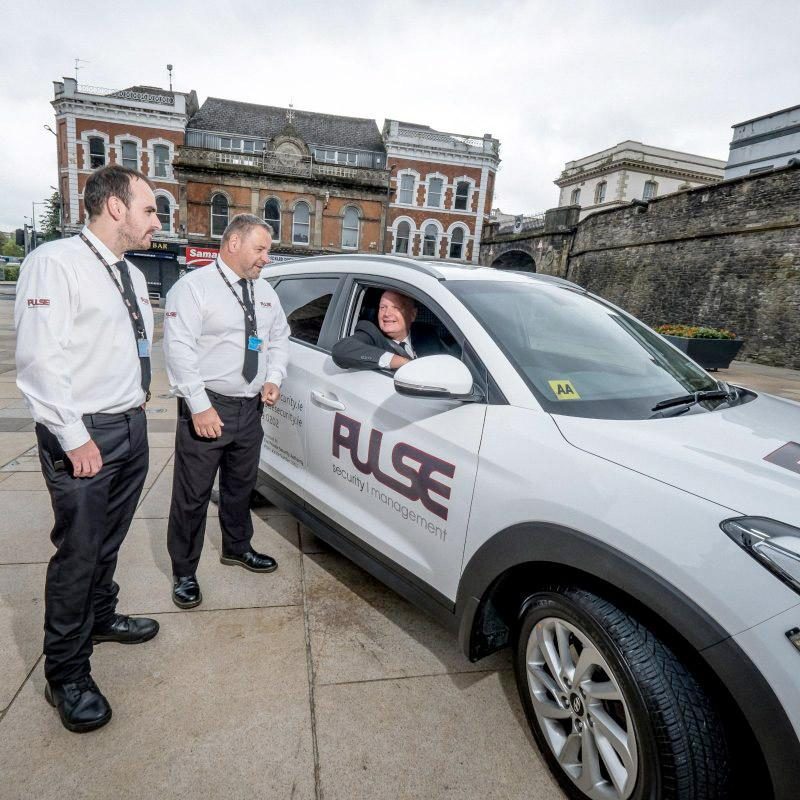 Our mobile patrol units are clearly marked and make their presence known to potential threats. Using the latest advancements in security technology and reporting, our security personnel can also provide your business with services including:
Protecting employees, customers and visitors
Identifying unauthorised vehicles 
Patrolling carparks and structures 
Removal of livestock
Initiating emergency and fire response 
Surveying outdoor spaces
Making scheduled or random mobile patrols
Checking alarm systems 
Resetting alarm systems 
Vehicles equipped with emergency aid equipment such as first aid, defibrillators, jump start cables 
Mobile Patrols Core Responsibilities
When a security alarm goes off, PULSE Security Management mobile patrols are there to respond quickly and effectively. They are the first on the scene to assess the security threat and mitigate any potential danger. If Gardai or medical response is required, our teams can work on your behalf to communicate the situation to aid in achieving a quick resolution. Mobile patrols can also ensure that your alarms are reset and in working order after a security threat.
Patrolling for Security Threats and Crimes
One of the greatest concerns that many business owners share is the threat of crime occurring on their properties. Mobile patrols can be deployed at regularly scheduled intervals to check the premises for theft, vandalism, loitering, trespassing and other nuisances. Mobile units can also make random patrols to proactively deter potential criminal activities.
Locking and Unlocking Services
Our mobile patrol units can help you maintain the security of your entrances, gates and restricted areas by providing reliable locking and unlocking services. Our team can lock and secure your property including your offices and gate entrances at specifically designated times of day. They can also unlock those assets when you need them open for customers, employees and visitors to your property.

Pulse Security Management has delivered on their promise, their level of enforcement is what the University expects, and we have total confidence in their ability.
As our official security partner and a leader in their field Pulse Security Management provide the FAI with real peace of mind on all aspects of security risk management.
Pulse Security Management has provide the Irish Rugby Football Union with an excellent service, their staff and management give real peace of mind to the extent that I would recommend them to any organisation.
They provide trained, experienced and highly qualified security personnel for Foyle Port in compliance with the International Ship and Port Facility Security Code. The service provided by Pulse is always positive and effective, the staff always act in a professional and vigilant manner whilst maintaining a welcoming approach which is always necessary when interacting with passengers and communities. I would have no hesitation in recommending Pulse services to any future contractors.
Why Choose Pulse Security Management Mobile Patrol Service?
Something can happen anytime, anywhere. Mobile patrol services should be your first line of defence in protecting your people and property.
They act as a trusted partner whose presence alone can help deter some of the most common crimes and threats residential and commercial properties face. We specialise in quick response, thorough reporting and clear communication so you know what's occurring at your property at all times.
For the past 20 years, PULSE Security Management has been providing customers across Ireland with highly qualified and dependable mobile patrol units. Contact us for a consultation and quote now.