IRELAND'S NUMBER 1 EVENT
SECURITY SERVICES PROVIDER
When you are planning an event, you need a security company that you can trust. 
PULSE Security Management is the leading event security company in Ireland, with over 30 years of experience and some of the most skilled people available in the industry. Backed by our impeccable reputation for quality and affordability, PULSE Security Management provides reliable protection for events of any type and size.
Security Efforts For A Wide Variety Of Events:
Sporting Events
Award shows
Public Government Meetings
Celebrity Appearances
Location filming
Corporate Conferences
Business Meetings
Grand Openings
Concerts
Festivals & Galas
Private Parties.
Trust Your Event Security to PULSE Security Management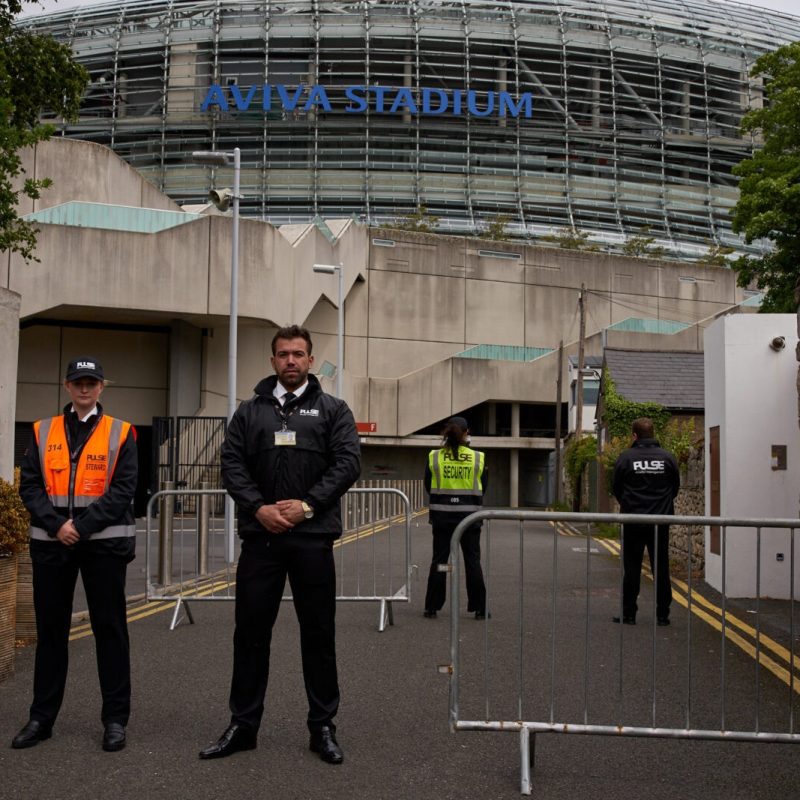 Our security management team is comprised of a team of experienced security professionals. We know that your event takes a great deal of time and money.  At PULSE Security Management, we are committed to providing you with the best security people to ensure the safety of all those attending your event. And with our experience you can rest assured that we will have your security needs covered, guaranteed.
You have the skills & experience to pull off a a succesful event. Let us handle your event security.
We provide custom security solutions for events of all sizes, including concerts, corporate events, private parties, conventions and sporting events.
With over 30 years of experience and a reputation for being the leading event security company in Ireland, our team will develop a bespoke security plan to meet all of your security needs.
Event Security Core Responsibilities
Pre- and post-event logistics
Traffic management and crowd control
Managing access to restricted areas
Booth security and patrol
Security inspections in the venue and meeting locations
Coordinating with event staff to address security risks
Controlling access at entrances and exits 
Monitoring the perimeter of the venue 
Communicating with Gardai 
Information security for products or trade secrets 
Managing disruptions that could impact the flow of events
Responding to unruly attendees or violent situations

Pulse Security Management has delivered on their promise, their level of enforcement is what the University expects, and we have total confidence in their ability.
As our official security partner and a leader in their field Pulse Security Management provide the FAI with real peace of mind on all aspects of security risk management.
Pulse Security Management has provide the Irish Rugby Football Union with an excellent service, their staff and management give real peace of mind to the extent that I would recommend them to any organisation.
They provide trained, experienced and highly qualified security personnel for Foyle Port in compliance with the International Ship and Port Facility Security Code. The service provided by Pulse is always positive and effective, the staff always act in a professional and vigilant manner whilst maintaining a welcoming approach which is always necessary when interacting with passengers and communities. I would have no hesitation in recommending Pulse services to any future contractors.
Trust The Security Experts
We understand the needs of event organisers and will help you get the solutions you require.
We will assess your event and provide you with security preparation, prevention and threat plan for crowd control and emergency response.
Contact our security professionals today to learn more about our event security services and to find out how we can partner with you to protect what matters most. .