PROFESSIONAL CORPORATE SECURITY FOR
EVENTS, BUILDINGS & VIPS
Our guards work hard to make sure that event guests feel safe and event managers have peace of mind.
Corporate event managers understand the complexities of large-scale corporate events. Despite all of the moving parts involved, there is one element that trumps them all: the safety and security of your guests.
Professional corporate security personnel can help ensure that your event runs as you envisioned, without disruptions from any unplanned security threats. The services that our guards provide can help you put on a successful event, allowing you to achieve your organisation's business objectives.
Security Efforts For A Wide Variety Of Events:
Shareholder meetings 
Board meetings 
Product launches 
Service announcements 
Employee appreciation events 
Negotiations 
Trade shows 
Conventions 
Corporate retreats 
VIP events 
Corporate Security Services Ireland

Shareholders & Board Members
Shareholder and board meetings for large companies pose unique security risks. High-level executives and high-profile investors attend these events, increasing the chance of an unwelcome security threat from a disgruntled employee, customer, vendor or other individuals. Often, significant decisions are made at these meetings that could have serious impacts on the lives of stakeholders. When those individuals are impacted negatively, they may decide to take negative action against the company VIPs.
Our security guards have specialized training in the handling of these kinds of security concerns. They know how to identify suspicious and high-risk behaviour and neutralize that behaviour with a number of de-escalation tactics. The goal: to prevent any further disruption of the meeting and maintain the safety of the guests.

Product or Service Launches
New product launches and service announcements can be very exciting events for a company. When you want to communicate these developments to your stakeholders, while maintaining privacy until you are ready to launch publicly, you may require the services of a skilled security team.
Our security personnel can make sure that the right people are in the room, and the wrong people stay out. They can enforce rules and regulations, including those that prohibit the use of mobile phones and other recording devices. We work hard to protect the integrity and reputation of your brand.

Trade Shows & Conventions
Trade shows and conventions attract large crowds of people and there are many logistical challenges that can create serious security risks.
Pulse Security Managements' guards have extensive experience in securing property and people at trade shows. They are adept at managing the flow of traffic to make sure that people travel through in a safe and orderly fashion, while also preventing individuals from moving into restricted areas. Our goal is to ensure that all of your show exhibitors and guests have a positive overall experience. 
Trust Your Corporate Event Security to PULSE Security Management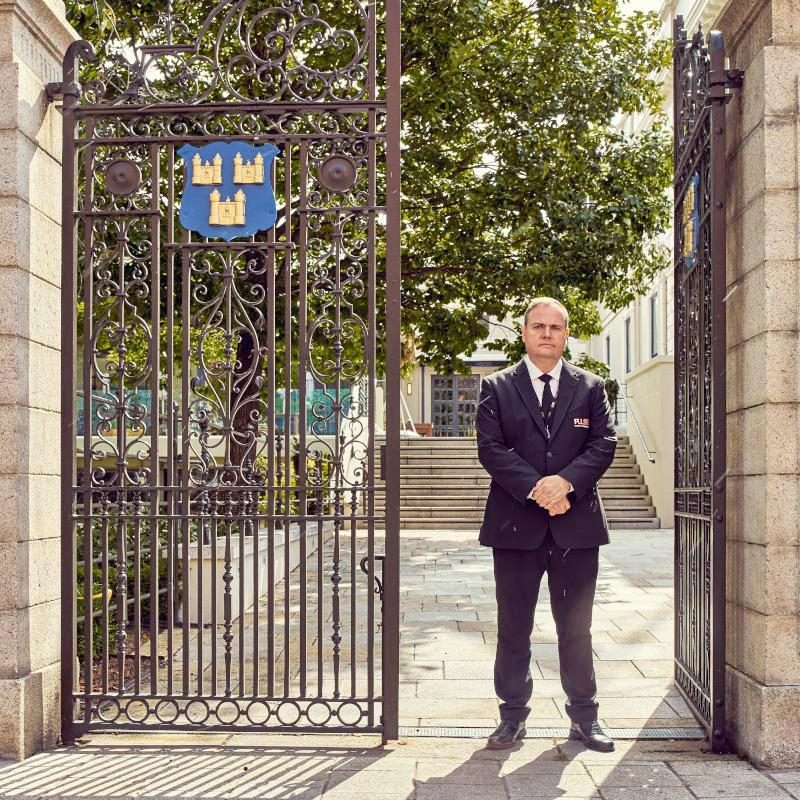 Corporate Security Guards are a vital contributor to your event at all stages of the process. Security Guards can assist event managers in a number of ways before, during and after an event. Although their responsibilities may vary depending on your needs, our security personnel is ready to assist at all times and act to mitigate a threat when required.
We prepare our teams by providing them with the most comprehensive training available to expertly serve our clients.
PULSE Security Management has been providing security guards to corporate clients for over 30 years. Our managements' guards integrate themselves into your overall security program so they can seamlessly address issues with discretion, poise and competence. Your guests should never have to worry about their safety. When you need the best protection available, choose to partner with the leading corporate event security company in Ireland.
Corporate Event Security Core Responsibilities
Inspecting the venue and meeting locations
Coordinating with event staff to address security risks
Managing access to restricted areas
Controlling access at entrances and exits 
Monitoring the perimeter of the venue 
Coordinating with event staff to address security risks
Managing disruptions that could impact the flow of events
Communicating with law enforcement 
Information security for products or trade secrets 

Pulse Security Management has delivered on their promise, their level of enforcement is what the University expects, and we have total confidence in their ability.
As our official security partner and a leader in their field Pulse Security Management provide the FAI with real peace of mind on all aspects of security risk management.
Pulse Security Management has provide the Irish Rugby Football Union with an excellent service, their staff and management give real peace of mind to the extent that I would recommend them to any organisation.
They provide trained, experienced and highly qualified security personnel for Foyle Port in compliance with the International Ship and Port Facility Security Code. The service provided by Pulse is always positive and effective, the staff always act in a professional and vigilant manner whilst maintaining a welcoming approach which is always necessary when interacting with passengers and communities. I would have no hesitation in recommending Pulse services to any future contractors.
Corporate Security Guard Services From Pulse Security Management
Pulse Security Management is the leading provider of corporate security guards in Ireland.
We only hire trained and licensed guards, so we can guarantee that our clients will receive the most competent, professional and respectful service available. And with the calibre of specialised training that we provide to our guards, you can rest easy knowing that your next corporate event will include the best security personnel in the country. 
If you are planning a corporate event, get in touch today. Our caring and professional team can help you recognise potential event-specific security threats and offer you the best protection strategies to meet your needs.